i was just bored and searching the ea boards on ncaa 12 and i found this post
http://forum.ea.com/eaforum/posts/list/5430601.page
and i was amazed at how many 2-4-5 plays they have "added". some wont work and some are in madden but it seems as though the nickle 2-4-5 will be the aggresive defense in ncaa 12 and the defense to play against the spread or run and shoot offense. my mind is racing as i type thinking of how to these defensive plays will work and how i can make them work and against what offenses and all kinds of stuff and i kno i got about 2 months to go but i was posted this just so u guys can look also. they "added" 25 totals plays probably more i only added the defensive plays.
Quarters Normal Dbl Loop 3
Nickle 2-4-5 Slant zone 2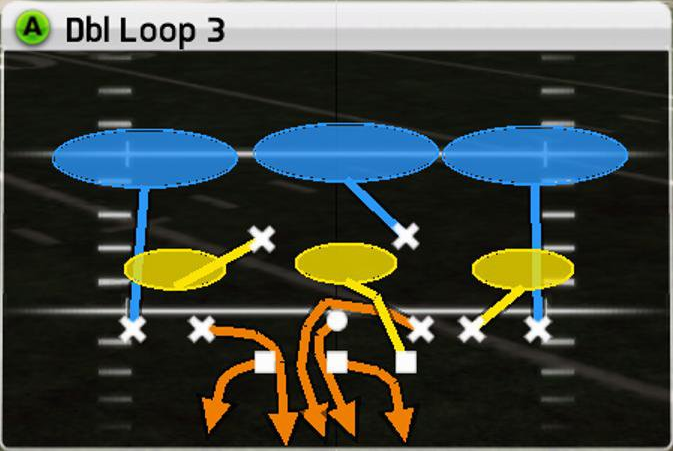 Nickle 2-4-5 cover 3 bluff
3-3-5 Okie NCAA Blitz 3
4-2-5 Over Thunder Zero Cop
Nickel Normal Cover 6
Dime 3-2-6 Spinner Buck Dog 1
4-2-5 Under Slide Rover Wk Dog
4-2-5 Okie Across Bullets Dbl A (THIS PLAY SHOULD BE CALLED GOOD FUCKIN LUCK LOL)
1.Rover weak dog- shift D-line to the left side of the oline reblitz the DT to attack the center. nice overload pressure, you could contain if needed.

2.Spinner buck dog 1-My favorite play of these plays alot of possibilties. Shift line right to overload with a cb blitz to contain a scramble to the the left.

3.Cover 6- Lol that is just a cover 3. Basically Over storm brave but the cb playing a hook zone instead of a flat zone. Not really sure where they got the 6 from im lost. 5 DBs, 3 man deep, 7 in coverage wtf do they get 6 from.

4. Slant 2 zone- what a fucking joke the TE will be wide open they expect a Jack to cover that much ground. Is the Will running a fake blitz if so thats kool same with Cover 3 bluff.
Pro





Posts

: 587


Join date

: 2010-08-29


Age

: 33


Location

: Baltimore/Maryland



I agree..most of these blitzes will take a shit or a reblitz to press a gap and the extra blitzer will clean things up. I'm reserving any judgement of these things because it depends on how the collision system effects blocking. There are a few zone blitzes that I'm like idk..if those are fake blitzes idk maybe but to cover that much ground I'm not sure if that's a good idea..I would have to see how the new zone defense plays...that cover 6 tho was is stupid there are 2 huge holes in that play but again gotta see how the new zone defense plays
I agree..most of these blitzes will take a shit or a reblitz to press a gap and the extra blitzer will clean things up. I'm reserving any judgement of these things because it depends on how the collision system effects blocking. There are a few zone blitzes that I'm like idk..if those are fake blitzes idk maybe but to cover that much ground I'm not sure if that's a good idea..I would have to see how the new zone defense plays...that cover 6 tho was is stupid there are 2 huge holes in that play but again gotta see how the new zone defense plays

---
Permissions in this forum:
You
cannot
reply to topics in this forum